Wedding Albums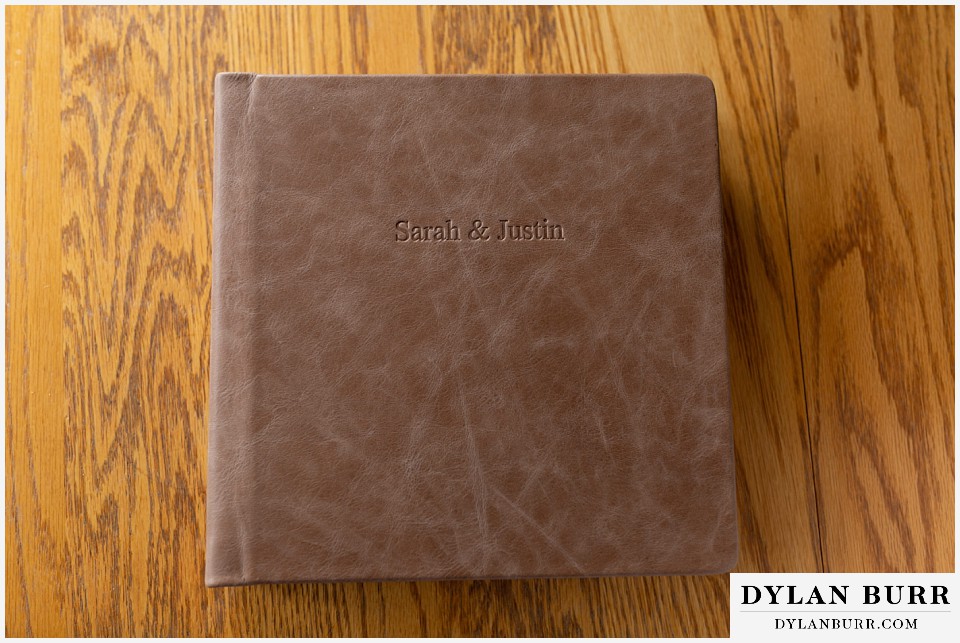 These little things are gorgeous. Having a wedding album that you can take out and experience your day again is probably the best way to do it. It's also a waaaay better way to share your wedding with someone rather than handing an ipad or laptop to someone.
There is quite a few options and I will mention my favorites and what most people do as we go along. Keep in mind... if you have any questions, reach out and keep in mind this isn't the only way to make your album, but certainly these are my current favorites.
All my albums come in a wooden box, but also this nice too from the album manufacturer. This photo here also has 2 parent albums. I will go over those below.
Each album comes wrapped in this super soft bag to help protect it and keep that leather feeling amazing and if you got the LUXE leather, keep that lush and super soft.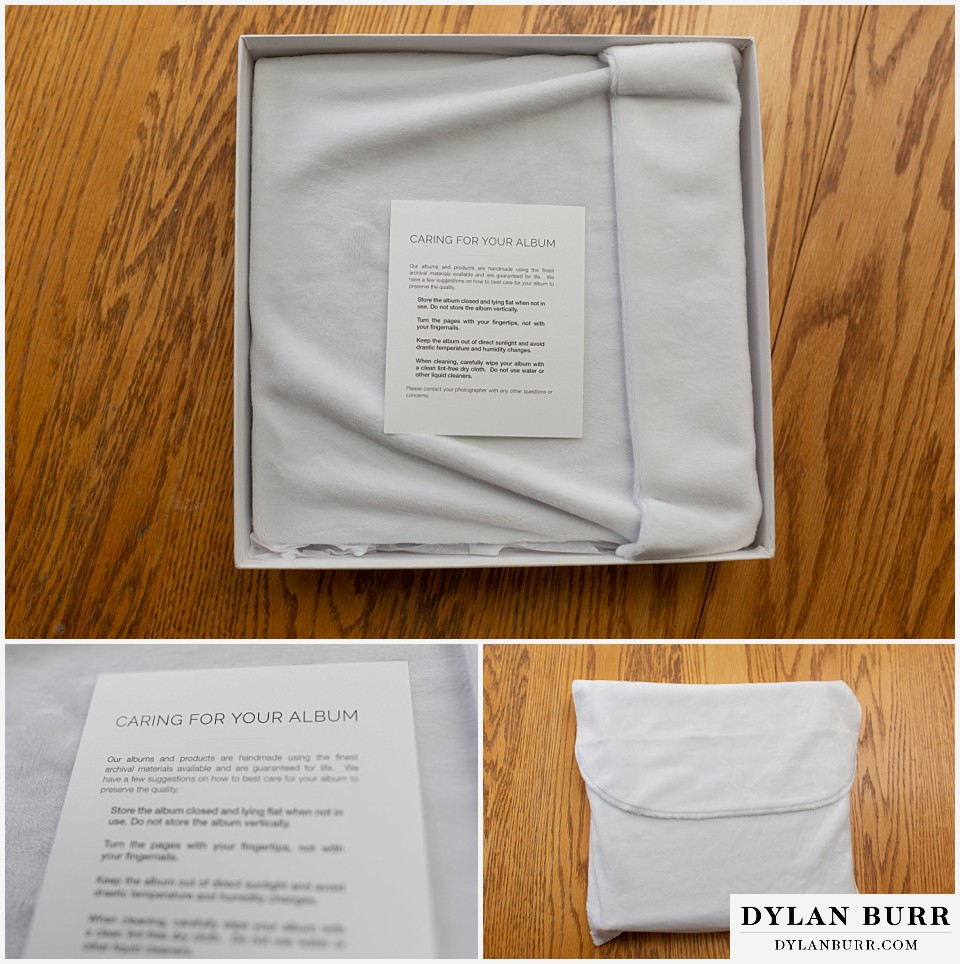 Caring for your Wedding Album
Each album comes with a set of handy care instructions. The main one is that your album needs to be stored flat. If you store it vertically the pages can warp due to them being so heavy. It also has some handy tips. Keep in mind these comes with a lifetime guarantee and if anything happens, let me know and we will get it fixed for you.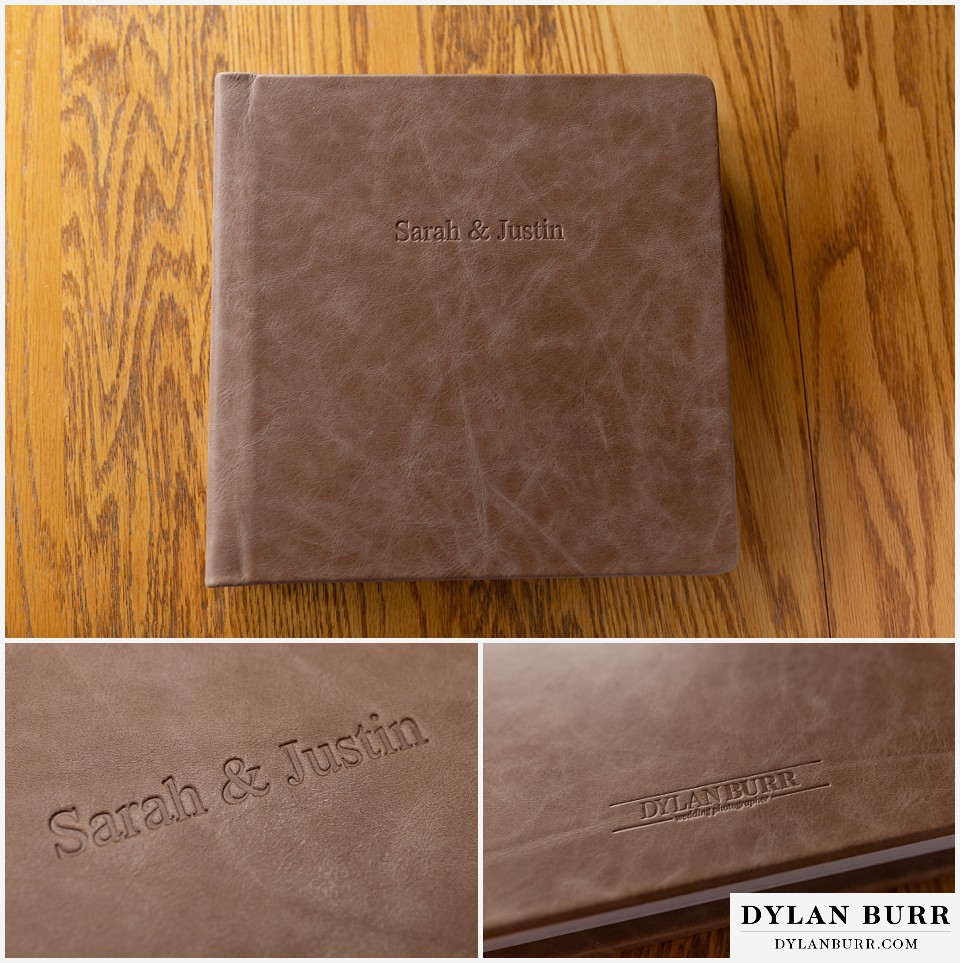 Cover Debossing
A great add-on you can do for your album is to deboss (press-in) your names, or whatever you'd like, into the cover. This is only available for the leather covers. They have some other options for fabric covered albums. You can do 2 lines in a few fonts but for a little extra you can create a custom stamp in 2 different sizes.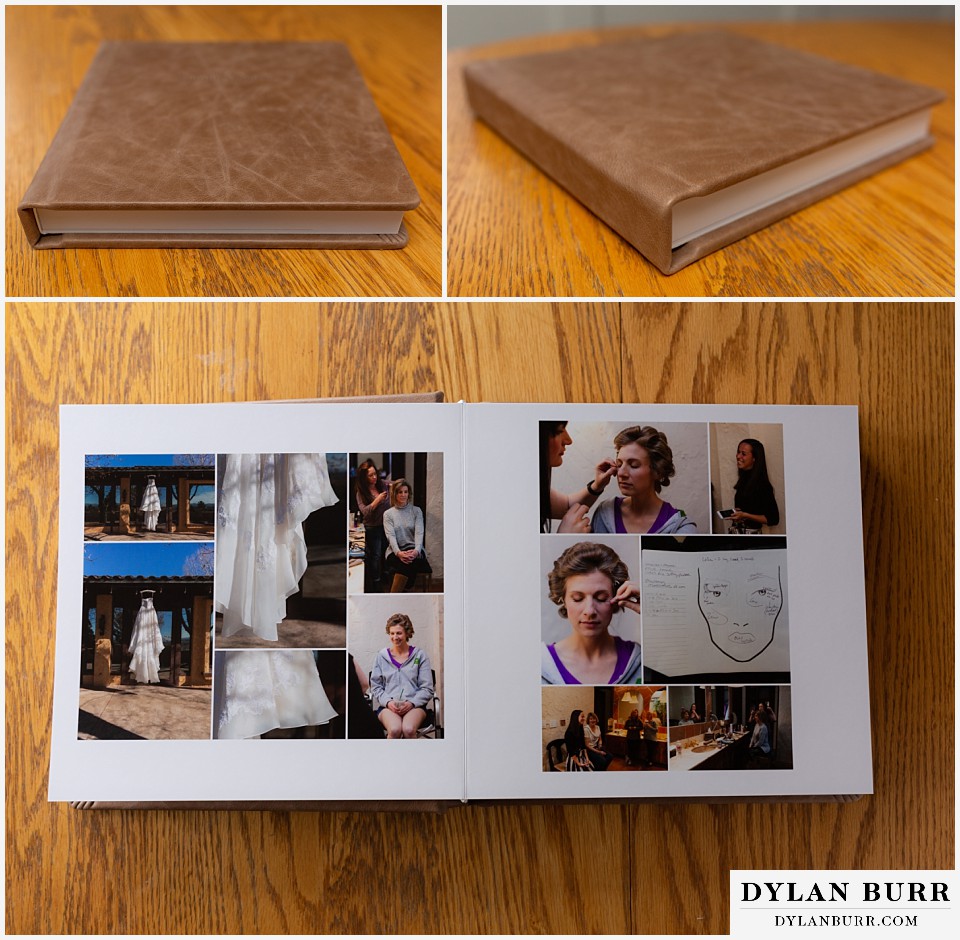 Custom Page Designs
The album design itself is custom made by me. I've found rather than having you pick your favorite 100 images, that I design the first pass that tells your story. Then after that it doesn't feel like so much work to move images around or replace a few here and there.
The most common size I create is the 10 x 10. It's large enough that you can have an 8x10 size image or even go across the full page spread for a 20x10 image. You can also make collages that best tell a story and the resulting images don't get too small.
The images are mounted to thick paper board (kind of like a baby book) come with a coating to help with fingerprints and dirt. You don't have any loose photos falling out or anything like that. Its a very finished and clean look.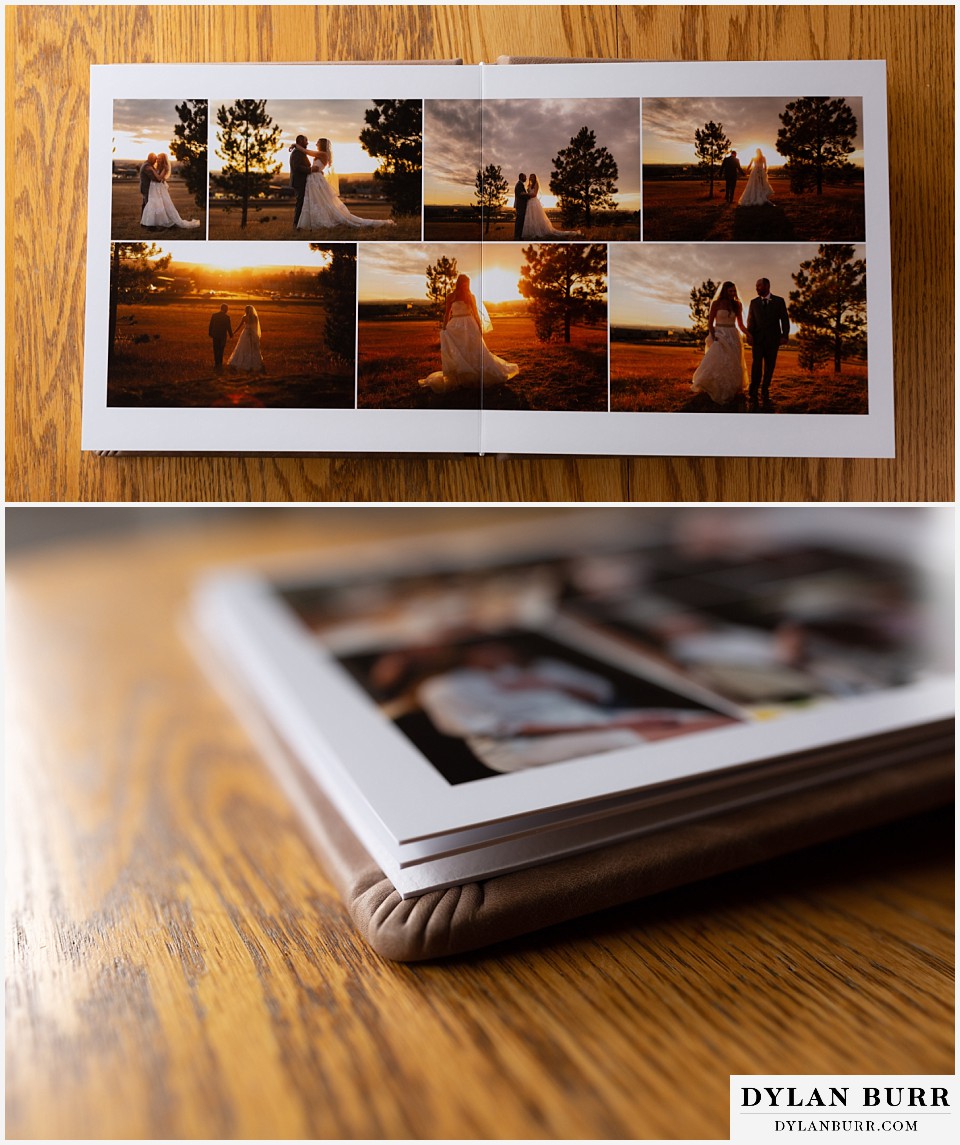 Custom Made Wooden Album Boxes
Every album comes with a wooden storage box. They can be custom laser engraved with virtually any design.
Parent Wedding Albums
You have the option at the time of ordering your main album to order an exact, and slightly smaller, copy for your parents or whomever you would like. They are greatly discounted and have to be ordered at the same time as they use the same cover materials to match and keep the costs down.
They have the same build quality and are exactly the same... just smaller.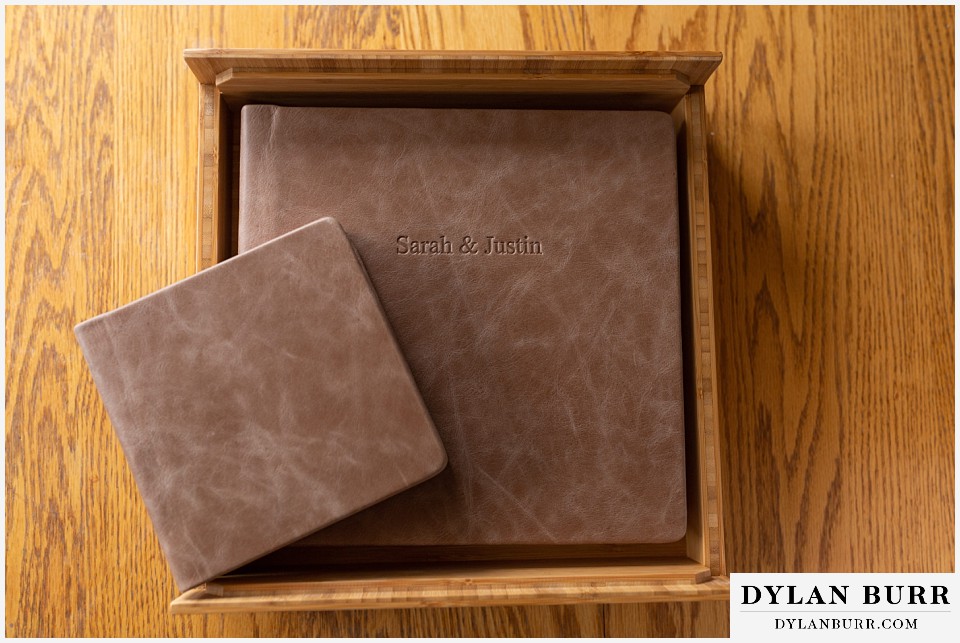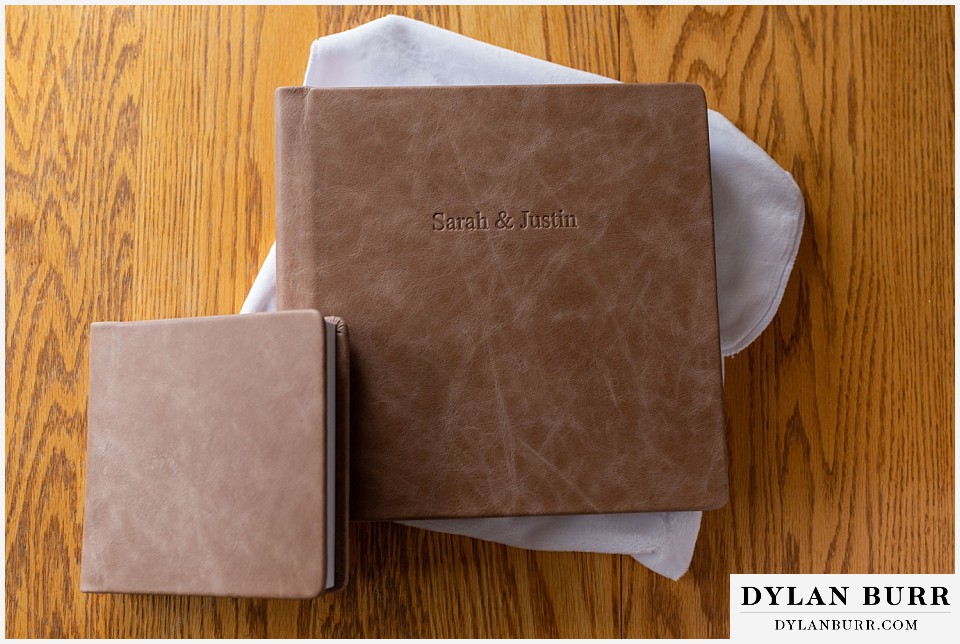 I am available for all of Colorado and destination weddings, elopements and engagements. I love to wander.
Colorado Wedding Photographer | Colorado Engagement Photographer | Colorado Mountain Wedding Photographer